December 22nd, 2016
---
11:27 pm - Black Velvet 91 Online Now!


Black Velvet 91 is now online and includes:


Interviews with Pop Evil, Sixx:A.M., Black Stone Cherry, The Dead Daisies, The Answer, Red Sun Rising, Royal Republic, SOiL, Black Foxxes & Kemuri.

Concert reviews of Pierce The Veil, Goo Goo Dolls, Five Finger Death Punch/Shinedown, 3 Doors Down, Less Than Jake, Against The Current, Toseland, Delain & more

Column by Björn Wennerborg of Animan.

Album and EP reviews of Sixx:A.M., Steven Battelle, Cadaver Club, JOANovARC, Bowling For Soup, Yellowcard, Better Than Never, Voodoo Vegas, Last Great Dreamers, Animan and more.

DVD Reviews, Fansite Focus, BV CV and more.

Read it all for free over at http://www.blackvelvetmagazine.com

December 14th, 2016
---
01:00 am - Be You
Sad to hear about the mean memes that have been going around the last couple of days.

Stop Bullying.

We're all different. Some are born different. Some can't help being different. Some want to be different. We are all unique. No matter what we look like, how we act, what's on the outside, it's the inside that counts and we are all human. (Well, ok, I may be 50% animal).

Stop The Hate

We love and are inspired by people like Lizzie Velasquez for her positivity, for her strength and for speaking out and educating and motivating others. She is awesome. She is beautiful. She rules.

September 26th, 2016
---
11:00 pm - Black Velvet 90 Online Now!
Issue 90 of Black Velvet is now online. It includes:

Interviews with Delain, Alter Bridge, Goo Goo Dolls, Young Guns, Airbourne, Twin Atlantic, State Champs, Altered Sky, Stone Broken & Finding Kate.

Concert reviews of Good Charlotte, Don Broco, The Dead Daisies and Twin Atlantic.

Column by Josh Kemp.

Album, Single and EP reviews of Alter Bridge, Young Guns, Hey! Hello!, The Answer, Airbourne, Bayside, Metorana, Electric Fence, Save The Lost Boys, We Are The Catalyst, Chapter And Verse, Chasing Cadence, Blackberry Smoke, A Day To Remember, Finding Kate, Boston Manor, Diamond Days, The Refusers, Against Me!, Thirsty, Those Damn Crows, Vandercash and more.

DVD Reviews, Fansite Focus, BV CV and more.


Current Music: Delain

August 16th, 2016
---
11:43 am - Don Broco & Nothing More Interview
We've posted a couple of last year's video interviews on youtube recently. Hope you'll enjoy them...

Our Don Broco interview from last August:



And our Nothing More interview from December:



We're now busy researching for some other upcoming interviews to go in issue 90 of Black Velvet. It's quiet for gigs at the moment due to it being festival season, so we've got some phone interviews as well as a face to face interview to do soon.

July 3rd, 2016
---
08:21 pm - Black Velvet 89 Online Now!
Black Velvet 89 includes:

Interviews with Andy Black, The Dead Daisies, Mayday Parade, The Summer Set, The Treatment, The Amorettes, As It Is, Hands Like Houses, Massive & Boy Jumps Ship.

Concert reviews of Andy Black, Sixx:A.M., Breaking Benjamin, PVRIS, Hardcore Superstar, The Summer Set, The Treatment, Hands Like Houses, As It Is & Boy Jumps Ship.

Slam Dunk Midlands 2016 Festival Report.

Album, Single and EP reviews of The Dead Daisies, Skillet, Bun E. Carlos, Sinnergod, The Amorettes, Delain, Waterparks, Boy Jumps Ship, Goo Goo Dolls, The Wildhearts, Still Square, Fallen To Flux, Blackrain, Jolly Joker, The Flux Machine, Matty James, Skarlett Riot, Tremonti, Blaqk Audio, Patriot Rebel, Black Aces, Hammerjack and more.

Column by Joey Class of The Senton Bombs.

Book Reviews, Fansite Focus, BV CV and more.

Read it at http://www.blackvelvetmagazine.com
April 5th, 2016
---
06:01 pm - Black Velvet 88 Online Now!
Black Velvet 88 is now online to read and includes:
Interviews with Toseland, Black Stone Cherry, 3 Doors Down, Tremonti, Bowling For Soup, Sixx:A.M., Skunk Anansie, Tonight Alive, The Winery Dogs, Walk The Moon and ForeverAtLast
Concert reviews of All Time Low, Sleeping With Sirens, Mayday Parade, Kerrang! Tour (featuring Sum 41), Theory Of A Deadman, Thunder, The Rocket Summer, Toseland, Tonight Alive, Walk The Moon, The Winery Dogs and Black Stone Cherry.
Album, Single and EP reviews of Toseland, Tonight Alive, Skunk Anansie, Sixx:A.M., Black Stone Cherry, Sunflower Dead, Jetbone, Cellar Dogs, Acey Slade, C.O.P. UK, Lacey, Soto, 3 Doors Down, The Rocket Summer, Ace Frehley, Cheap Trick, Less Than Jake, Royal Republic and more.
Column by Acey Slade.
Current Mood:
busy

December 27th, 2015
---
08:26 pm - As 2015 comes to a close...
After the 2 weeks in Asia in September, I was 2 weeks behind in Black Velvet work - and never quite caught up. It's been quite a busy time with gigs and interviews. As you can see, there are quite a few in the latest issue. I interviewed Charlotte of Delain in October in Birmingham, did phone interviews with Michael Monroe and Hardcore Superstar (was originally hoping to do the Hardcore Superstar one in person at the show, but didn't hear back from the tour manager until 6.30pm asking me if I could do it after the show... I couldn't as I had to catch the last train home, so tried to arrange a phone interview for a few days later). I did a phone interview with Jacob Bunton of Lynam and Adler the same day I did the Michael Monroe one (which was also the day before the Delain one). I did a face to face interview with Tom Napier of Light You Up at their Birmingham show on November 13th... the day the attacks in Paris took place... The Light You Up show was a great show... then I was coming home on the train and logged in to Facebook where a friend posted about the attacks happening in Paris. Shocking. So awful. RIP to those that lost their lives.

I did a phone interview with Luke Spiller of The Struts on the day of their London 100 Club show. My new contributor Annina was going to the show but I did the interview on the phone earlier in the day. I also did an interview with Jake Johnson (Hugh McDonald's talented stepson... I was a bit slow to checking his songs out and very impressed when I finally did!). I also then did an interview with Redditch solo musician Stuart Woolfenden. He came to BV HQ since he lives in the same town, and I did a photoshoot with him too and recorded him singing a song (which I need to put on youtube).

And then the final interview was my Nothing More one at the Institute on Dec 5th.

Black Velvet contributors Sam & Penny did the Fozzy interview for me and Annina did the Zebrahead interview - I may have spontaneously combusted if I'd had any more interviews to research for. It wouldn't be so bad if I was just a normal interviewer that doesn't bother doing much research, but I take days, sometimes the best part of a week, to interview for each interview.

Aside from that, I went to review and photograph shows of Mallory Knox, Def Leppard/Whitesnake and We Are The Ocean.

Then a week before Black Velvet deadline, my mac decided to die on me! Luckily I back everything up, so had it all on a msb stick. The only way I could get onto my mac was via safe mode. Thankfully it DID let me go on with safe mode and so I continued Black Velvet and got it completed, in the last week, all using safe mode! It was a bit of a pain as every time I opened a document/page I needed to reinstall fonts as in safe mode it said they weren't there. I was very happy to finally get it completed the day after my birthday. I was up until 7am the night of my birthday, trying to get it finished. Luckily, I'd booked the next day off work, so I worked all night until I'd finished it and then slept in the day!

I've since bought a new mac (well, a cheap second-hand refurbished old mac!) and new software, so everything should be ok for the next issue. It's probably a blessing in disguise that it broke when it did as I'd had my G5 power pc ten years, since 2005 or so, and it was so old, you couldn't upgrade the operating system or any browsers and couldn't use certain software. Now I have a new one and can start afresh with the next issue. I was kind of sad to part with my old mac as I'd had it so long, it's been with Black Velvet for almost half its existence. That said, it's exciting to have a new mac that can do things again.

Looking back on 2015 as a whole, it's been another great year full of enjoyment and fun. Highlights were going to the Bahamas in May to see JBJ as well as Kuala Lumpur, Singapore, Seoul and Macau in September. Another highlight outside of Black Velvet was having a family of foxes come to eat food in the back garden from April until December. I put food out them and videos and photographed them almost every evening. Sad that they seem to have now moved on. I haven't seen since a couple of days before my birthday.

I hope 2016 is as awesome as 2015. Although preferably with no broken macs.


Current Mood:
content

December 23rd, 2015
---
01:17 am - Black Velvet 87 - Hardcore Superstar, Nothing More, Fozzy, Zebrahead...
Black Velvet Issue 87 is online now. It includes:
Interviews with Hardcore Superstar, Delain, Michael Monroe, Zebrahead, Fozzy, Nothing More, Lynam/Adler, The Struts, Light You Up, Jake Johnson and Stuart Woolfenden.
Concert reviews of Bon Jovi, Def Leppard/Whitesnake, Lifehouse, Tremonti, Mallory Knox, Backyard Babies, We Are The Ocean, Delain, Michael Monroe, Against The Current, Light You Up, Fozzy, Nothing More, The Struts and Zebrahead.
Album, Single and EP reviews of Zebrahead, The Jokers, Escape The Fate, Sons Of Texas, Patent Pending, Devil Strip, DirtbagRepublic, Girlschool, Fearless Vampire Killers and more.

Column by CK Gillon of The King Lot.

DVD Reviews of Twisted Sister, Black Veil Brides and Rage Against The Machine, Fansite Focus, BV CV, Eatin' Ain't Cheatin' and more.
Current Mood:
accomplished

October 14th, 2015
---
05:21 pm - South Asia
September came and went so fast - probably because I was having fun. I managed to get issue 86 of Black Velvet completed a few days sooner so I could post it online before flying to Kuala Lumpur. A friend planted the seed in our heads to go to a few of the Bon Jovi shows in South Asia. I booked a couple of weeks off work and chose to go to Kuala Lumpur, Singapore, Seoul and the two Macau shows. I've never been to any of those places before so as time got nearer I was quite looking forward to it.

After doing some googling on Kuala Lumpur I found a local tour that included a stop at Batu Caves before going on to Kuala Gandah Elephant Sanctuary. Being that I love animals and had never actually seen elephants in real life before, and knowing that it was a sanctuary that cared and rehabilitated the elephants, I was eager to go - and was probably looking forward to visiting the sanctuary more than anything.

I decided to fly over late on the 16th, which would get me to Kuala Lumpur late on the 17th. My flight went via Dubai and I landed at 9.45pm, then caught the train to Kuala Lumpur Sentral (sic) and then changed lines for one more stop before finding the hotel. I'd booked the elephant tour for the next day. Kaori was arriving early in the morning, so she came to the hotel and while waiting for our elephant tour/batu caves pick up booked tickets to go up the Petronas Twin Towers the next day.

The elephant tour usually also stops off at Deerland, a deer park, on the way, but it's closed on Fridays, which was a shame, but we didn't mind too much as then you have to go at 9am. We arranged with the tour company to go at 10am - to make sure Kaori landed and got to our hotel on time.

Batu Caves and the elephant sanctuary were great fun. The caves have loads of monkeys and I was more mesmerised with taking their photos than I was of the actual caves. Our tour included lunch and I'd requested a vegan meal. The driver/tour guide asked if I liked rice... but I don't... Figuring it may be hard for him to find me a nice vegan meal I told him I'd eat fruit, so we stopped at a fruit stall on the side of the road where he bought us some papaya, apples, banana chips and we also tried a rambutan (Malaysian fruit). The elephant sanctuary was the highlight of my trip, with us getting to feed the elephants and then bathe a smaller baby elephant. So cute. Although I also won't forget getting bitten about 10 times by mosquitoes that day. WHY do they love my blood?! I came up in massive red lumps all over my legs.




Mentioning to the driver that we were planning to go to the KL Menara tower with another friend, the driver said he could drop us off by the tower, which was nice of him, and saved us making our own journey from our own hotel there. Although there was a change of plan and we ended up getting dropped off at a friend's hotel where Connie and others were hanging out. We went for a meal at the nearer veggie place - a chain called Simple Life Vegetarian. Nice place although not enough vegan food for me - and a lot of it was too asian. We ended up not going to the tower as by the time we had eaten there wasn't that long before it shut, so figured we'd have to do it the next day instead.

So the next day we went up the Petronas Tower... we then took a cab to a vegan place which turned out to not be open/there and was a waste of a rip-off cab ride... and then went up the KL Menara Tower too, before going back to our hotel and getting ready for the first Bon Jovi show. Our hotel was ten mins walk from the venue... the bad news is that the hotel receptionist sent us in the wrong direction - to Merdeka Square instead of Merdeka Stadium. Argh! I started getting angsty when we realised we were the wrong place and time was ticking by. It was a major chore finding the venue - and THEN finding the ticket collection point. I had visions of us not finding the venue before the band went on. We followed one guy on what seemed a 3 mile trek. It was 7.30pm by the time we found the ticket collection point. Hallelujah. I've never been so relieved to find the ticket collection. Really thought we would not find it. Skipping to the show, we managed to all stand in front row (despite having second row seats). Jon telling us front rowers we were a nice surprise was a nice surprise too.

I got 1 1/2hrs sleep that night as we were flying from Kuala Lumpur to Singapore for the Grand Prix. We were shocked to discover that no-one was queuing when we got to the gates. They had a few entrances and I was first at my particular one. The most annoying thing was when it was time to go in. We had our bags searched and then a female security stopped me for a random full body search. Ugh. Are you kidding me? Making me stand there with my arms out while others are running past. And can you go any slower? I wrote in the Grand Prix survey later what a stupid thing that was. Why should they penalize the first person who had got there the earliest of all, to make them stand still for 10mins while others were running past. Annoying. Everything worked out though (apart from being on the opposite side to my friends), I got a great spot for the show and the show was fun. Waiting until 10.30pm before the band came on was torture though - it was boiling hot and we were melting. The Grand Prix before the show meant that the performance didn't start until 10.30 and ended at 12.30am.

Sadly I didn't get to see anything of Singapore. I didn't even get to eat at the veggie place in the local mall next to the gate as it was closed for lunch (ironic) when we went to have a look. I'd like to visit Singapore properly at some point as it did look like a nice place.

Next morning we flew to Seoul. This was a longer flight, over 6 hours. We got to our nice hotel that evening and while Connie and Stef went out to eat, I got to sit in the nice jacuzzi bath. We were all pretty shattered by this point. I had 3 hours sleep the night before so had only had about 4 1/2 hours sleep in 3 days. An early night and a sleep in the next day was needed. Although you don't get much of a sleep in on show days, and before we knew it we were at the venue (which luckily was a ten minute walk... in the right direction... away).

Another nice spot for the show, and chatting to a new friend from Korea who was stood next to me, helped kill time before the band went on stage. The Seoul show was the best out of the 5 with the band doing 2 encores, and the Korean fan club giving everyone signs to hold up, which Jon was moved by.

We had a day off in Seoul so next day I dragged Connie to a vegan cafe called Plant and then got the subway to Namsan Cable Car and took the cable car up to N.Seoul Tower for a view of the city. It was nice to see the love locks on the way up and watch some activities in the area outside.

Next day we flew to Hong Kong International Airport and then took the ferry to Macau. We could have flown directly to Macau but we opted to go by the more well known Hong Kong Express and then get the Turbojet. We got to our hotel in Macau at around 8pm (I think) and after checking in Connie and I grabbed a cab to a veggie place in Macau called The Blissful Carrot. The cab driver didn't know exactly where it was and said he couldn't get to it so we had to get out and ask someone else and follow directions where we eventually found it. It was a quirky little place. More of a homely room for takeaways than a cafe/diner - although they did have 4 stools and 2 were free, so we could sit and eat inside. I think I had the veggie burger and potatoes and a karma cola... and then chose to buy a cupcake and some toothpaste (I had run out of LUSH's toothy tabs so was amazed that the vegan cafe actually sold toothpaste!). The assistant squashed a box lid down on my cupcake though so it completely squashed the icing on top and made taking a photo of the cupcake void! I ended up eating it after we had left. It was nice - just a shame she'd squashed the icing down. I was planning to go back to the The Blissful Carrot as I did like it, but we ran out of time both the next two days, which were both show days.

On the Saturday I can barely remember what I did... Maybe I slept in? I remember having a walk with Kaori through the Venetian looking for gift shops and not being able to find anything. I think the plan was to walk to the Blissful Carrot but we got sidetracked looking for gift shops and ran out of time. It seems that most of Asia don't do souvenirs. We did find a LUSH (which I smelt 200m away) and then ended up in the food court, getting hungry and buying sweet potato fries there, as it would have taken too long to get to the Blissful Carrot and back in time for the show. Next day, Kaori, Connie and I took a cab to downtown Macau in search of gift shops again. We went to a veggie/vegan store which sold wraps, cookies and smoothies and had a wrap and a smoothie before continuing our search. It ended up pouring down, we bought cheap umbrellas and finally, someone told us that there were some gift stores on the way to St Paul's Ruins. We found the ruins and found the gift shops - where finally I could buy my mom some Macau flip flops and other stuff.

The 2 Macau shows were in the Cotai Arena, and were fun - although I think Jon may have had problems with his voice towards the end of the second show. The encore was cut short and the band didn't do their usual bow. A slight shame for our final show before going home. We still enjoyed them though.

The trip was loads of fun. I had a great time visiting 4 countries that I've never been to for 5 shows. I got back home on Monday September 28th, in need of sleep.

I'm piled up with Black Velvet work. I went to see/review Mallory Knox and Set It Off with Sam and Penny on October 2nd in Wolverhampton and then last Friday I went to see/review Michael Monroe and Hardcore Superstar in Birmingham.

Photos are at

http://www.blackvelvetmagazine.com/malloryknoxphotos.htm
http://www.blackvelvetmagazine.com/setitoffphotos.htm
http://www.blackvelvetmagazine.com/michaelmonroephotos.htm
http://www.blackvelvetmagazine.com/hardcoresuperstarphotos.htm

Various Bon Jovi photos can be found on the Black Velvet Instagram page - http://www.instagram.com/blackvelvetmagazine - thanks to Phil X for sharing a couple of them!

Jon Bon Jovi & Matt O'Ree:




Phil X and Jon Bon Jovi:




I now need to get some interviews done and catch up on a whole lot of zine stuff (and more sleep).

October 13th, 2015
---
12:17 am - Black Velvet 86 - Lifehouse, Shinedown, Don Broco, We Are The Ocean...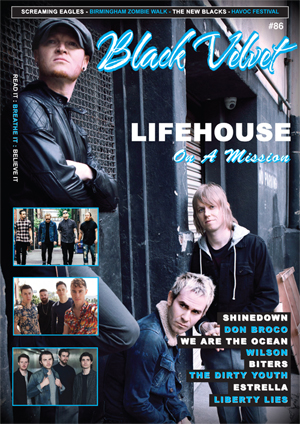 Black Velvet Issue 86 is online now and includes:
Interviews with Lifehouse, Shinedown, Don Broco, We Are The Ocean, Wilson, BITERS, The Dirty Youth, Estrella and Liberty Lies.
Concert reviews of Havoc Festival (featuring Fearless Vampire Killers), Don Broco and The New Blacks.
Birmingham Zombie Walk 2015.
Column By Ryan Lilly (Screaming Eagles)
Album, Single and EP reviews of Lifehouse, Bon Jovi, Heartbreak Remedy, Jupiter Falls, Stone Angels, Set It Off, Blacklist Union, Elasea, Shinedown, Backyard Babies, Don Broco, BITERS, Screaming Eagles, City Of Thieves, Motion City Soundtrack, Eat The Gun, Calm For The Restless, Osukaru, Whitemoor and more.
Fansite Focus, BV CV, Supersonic Future Superstars (featuring Kodiak Jack and The Endeavour) and more.